Anupam Shiksha Niketan School, kutail aim is to educate the youth of the world to take their productive place as leaders in the global community by offering our pupils a comprehensive education from Nursery to Class 12. We are a caring community where students' needs are a priority and where traditional Indian and modern Western educational values are respected and encouraged to coexist.
DIRECTOR'S MESSAGE
We are passionate about offering children an exciting, stimulating and rich curriculum, based on real reasons for learning. We hope that you will share with us the belief that every child should have the opportunity to meet their potential and develop the academic, creative, social and spiritual skills that will enable them to fulfill a happy and prosperous life.
PAWAN KUMAR
Director
65%
of students secured 90%
and above average marks
75%
a child's attendance
falls below, parents will be contacted
70%
of school gives importance
to the inherent urges of self expression and takes special care of the psychological and emotional needs of the children
SCHOOL FACILITIES
We make your child happy day after day
OUR BELIEF
What we Believe in:
Every human being is born with one very unique talent. Our single minded effort is to identify that talent in a child and make him or her aware that there lies his/her future and help them to achieve their full potential in that direction.While concentration is important for students, we take them one level above concentration, which is meditation.
It is estimated that a person uses on an average only 4 to 5% of his/her brain capacity. Our endeavour is to enhance it to a higher level. Albert Einstein's usage was estimated to be 7.5%.
LIBRARY
The school library is housed in a spacious hall with a well selected large collection of more than 400 books

SPORTS COMPLEX
The School's Sports Complex has facilities for athletics, basketball, volleyball, badminton etc.
MEDICAL CLINIC
An air conditioned Infirmary is available for the students' first-aid.
SCIENCE & MATHS LABS
Well equipped Science labs (Physics, Chemistry, Biology, Maths) for wonderful learning experiences.

MUSIC CENTER
Along with the curriculum, the School has a well equipped Music Centre.

TRANSPORTATION
The School maintains a fleet of GPS enabled buses for transporting students.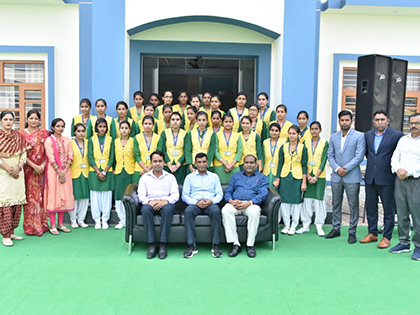 ACADEMIC STRUCTURE
The new academic session starts from 1st April 2022 onwards.
Primary School
Junior School
Middle School
Senior School